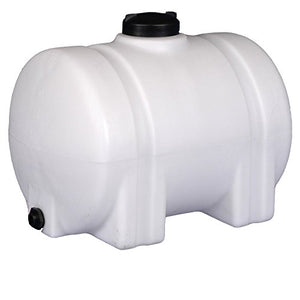 Brand: Norwesco
Color: White
Features:
Durable Polypropylene Construction with 3 year warranty
One five inch opening with lid
One Bulkhead installed at bottom of one side with 3/4" female NPT (no plug is included)
Not suitable for hydrocarbons
Publisher: Norwesco Fluid
Details: Our polyethylene storage tanks range in size from 12 gallons to 15,000 gallons and are manufactured in a variety of shapes and styles. Common uses for our Liquid Storage Tanks include the storage of fertilizer solutions, agricultural chemicals, water, liquid feeds and plant foods. All of our tanks are rugged, corrosion resistant and lightweight with no seams, welds or joints to leak or rust. Norwesco tanks are manufactured using resins that meet FDA specifications to ensure safe storage of potable water, and where applicable, our tanks are also NSF approved. Quality, price, product line and leading edge technology make Norwesco North America's largest manufacturer of rotationally molded tanks.
Package Dimensions: 29.0 x 23.0 x 20.0 inches